A brief biography of Aziz Isa Elkun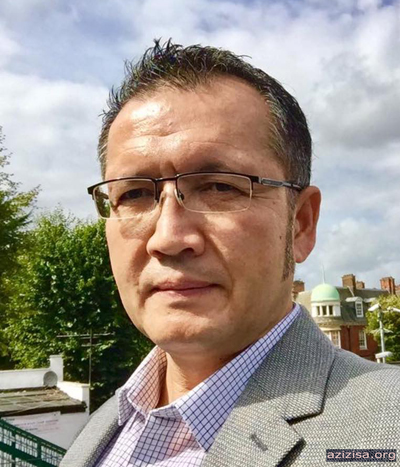 Aziz Isa Elkun was born in East Turkistan (Uyghur Autonomous Region, China). He spent his childhood in Shahyar county which is located close to the Tarim River on the northern edge of the world's second largest desert, the Taklamakan Desert.
He graduated from Xinjiang University majoring in Chinese and Russian and languages. He has been living in London since 2001. He studied at Birkbeck University in London. He has published many poems, stories, and research articles in both Uyghur language (www.azizisa.org) and English (www.azizisa.org/en).
From September 2014 to September 2017, he worked as Research Assistant on the "Sounding Islam China" project based in SOAS, University of London, and conducted collaborative fieldwork in Central Asia for the project. He has co-authored English language articles in Inner Asia and Central Asian Survey ('Invitation to a Mourning Ceremony': Perspectives on the Uyghur Internet and 'Islam by Smartphone: the changing sounds of Uyghur religiosity').
He is an active member of the exile Uyghur Community and founder of a Uyghur music group – the London Uyghur Ensemble. Since September 2017, he has served as Secretary of the PEN International Uyghur Centre.
From September 2018 to September 2020, worked as a Researcher Affiliate on a British Academy Sustainable Development project "Uyghur Meshrep in Kazakhstan" based at SOAS, University of London (www.meshrep.uk).
Since January 2021, he is working as a director for the Uyghur PEN Centre Online Revitalisation Project (www.uyghurpen.org).
http://www.azizisa.org/en/biography_aziz_isa_elkun//